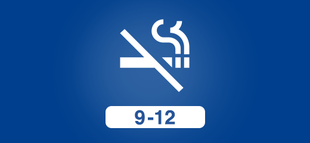 CATCH My Breath High School
CATCH My Breath is a program that will help your students build knowledge and skills to resist media influences and peer pressure to try E-cigarettes. It was designed to be delivered by teachers, nurses, or school counselors, in the area of health education, tobacco education, physical education, or science.
The CATCH My Breath program materials include: teacher training and materials, policy guides, parent resources, evaluation tools, peer group facilitator guides, classroom sessions, a PE Supplement and an option to purchase signage. If you have any questions, please email us at [email protected].
Introductory Community Presentation
State, regional and local tobacco educators who are interested in sharing CATCH My Breath and the current E-Cigarette situation with their community (SHACs, schools, etc) may request the presentation here.
PE Supplement
If you are teaching CATCH My Breath in the gym during Physical Education, see the PE Supplement section below for active games to reinforce the CATCH My Breath learning objectives.
We are excited to announce a partnership with CVS Health to bring CATCH My Breath to middle schools and high schools nationwide free of charge! Click here to read the announcement.